2 ibs. Ground or cubed meat (beef, pork, chicken, etc.)
3 tbsp. olive oil
1 large onion chopped
1 tbsp. (4 cloves) fresh minced garlic
4- 14 oz. cans stewed tomatoes, undrained
1- 12 oz. can tomato paste
1 cup beef or chicken broth, or water
2 tsp. salt
1 bag Ass Kickin' Chili Fixins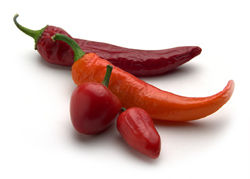 Wash and sort beans, removing any foreign material
Soak beans in ample water overnight
Drain, cover with fresh water, and simmer on low for 2-3 hours until beans are almost soft, making sure the beans remain covered in water
Saute the onion and garlic in olive oil and remove from pan
In same pan, brown meat just until pink disappears.
Mix meat, onion and garlic together in a large , heavy cooking pot
Gently stir in tomato paste, broth (or water), stewed tomatoes, salt, drained beans and the Ass Kickin' Chili Fixins Seasoning (large spice pack)
Add as much of the habanero pepper (small spice pack) as you think you can handle. 1/3 packet = Warm, 1/2 packet = Hot, Entire packet = Kick Yo' Ass Hot!
Simmer at least 30 minutes.
If you would like the chili a little thicker, mix the masa flour (provided) with water to make a pourable mixture
Stir slowly into the chili until its thickness is just right. Simmer at least another 15 minutes.
CAUTION! Be careful when handling the packet of habanero pepper powder!
Heat Level: Warm to Kick Yo' Ass Hot!
Enjoy!
Recommended Sauces for this Recipe: