Ass Kickin' Reaper Goulash
1/2 lb. elbow macaroni
1 & 1/2 lb. ground beef or ground turkey
1/2 green bell pepper, chopped
1 small onion, chopped
1 (28 oz.) jar spaghetti sauce
1 tsp. garlic powder
1 Tbsp. (or as much as you can handle) Ass Kickin' Carolina Reaper Hot Sauce
1 tsp. salt
1/2 tsp. black pepper
1 cup (4 oz.) shredded cheese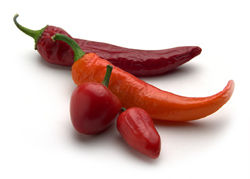 Cook macaroni according to package directions; drain and cover to keep warm.
In a large skillet, brown the ground beef or turkey, onion and bell pepper over high heat for 6-8 minutes, or until no longer pink, stirring frequently.
Drain off excess liquid.
Add macaroni, spaghetti sauce, Ass Kickin' Carolina Reaper, garlic powder,
salt and black pepper; mix well.
Reduce heat to medium-low and let simmer 5 to 7 minutes, or until heated through.
Sprinkle with cheese and simmer 1-2 minutes or until cheese is melted.
Enjoy and Have a Ass Kickin' Day!
Recommended Sauces for this Recipe: