Carolina Pulled Pork Sandwiches with Coleslaw
For the pork:
One 3 to 4 lb Boston Butt pork roast
3 oz of any of our spices & seasonings listed below
1 bottle of any of our Barbecue Sauces
For the slaw:
3 cups shredded or chopped cabbage
1 small bell pepper, thinly sliced
1/4 cup thinly sliced onion
3 tbsp cider vinegar
4 tsp. sugar
1 tbsp vegetable oil
1 tsp Dijon mustard
1/2 tsp celery seeds
Salt & Pepper to taste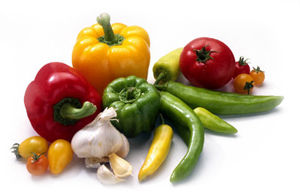 Sprinkle the rub thickly over the roast, allow to sit, covered & refrigerated, for 3 hours.
Start a fire in your smoker (charcoal, electric or gas). If using gas or electric, place soaked wood chips wrapped in aluminum foil pouches with a couple of holes punched in it next to the heating element. If charcoal, place soaked wood chips directly on coals.
Place roast on the rack in smoker with a drip pan half filled with water or other liquid such as wine, beer, etc.
Smoke the roast with 200 degree smoke for 4 or more hours, until falling off the bone or the internal temperature reaches 170 degrees.
For the slaw, combine the cabbage, bell pepper and onion in a bowl. Mix together the other ingredients and pour over the slaw, cover and refrigerate.
Remove the roast from the smoker to a cutting board and allow to sit for 20 minutes. With your fingers, remove any skin and fat from the roast and pull pork into thin pieces.
To serve, place the pork on Kaiser rolls or hamburger buns, spread the sauce of your choice over the pork, and then add coleslaw to taste.
Enjoy!