Drake's Jammin' Jambalaya
3/4 cup (4 oz.) smoked ham, diced
1 smoked sausage, sliced 1/2 inch thick
1 lb. boneless pork loin, cubed
2 cloves garlic minced
1/2 tsp. (or more to taste) hot pepper sauce like Cajun Power Spicy Garlic Pepper Sauce
1 tsp. salt
1/2 tsp. white pepper
1 tsp. Slap Ya Mama Cajun Seasoning
1 tsp thyme
1– 8 oz. can tomato sauce
1– 14 1/2 oz. can chicken broth
2 cups long grain rice
2 tbsp. vegetable oil
1 & 1/2 cups chopped onion
1 cup chopped celery
1 large green bell pepper, chopped
2 bay leaves
1 & 1/2 tsp. dried oregano
1/2 tsp. black pepper
4 medium tomatoes peeled & chopped
1/2 cup chopped green onion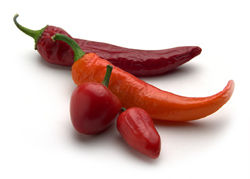 Preheat oven to 350 degrees.
In large Dutch oven, heat oil over medium heat.
Stir in ham, sausage and pork, saute until lightly browned, 4 to 8 minutes.
Stir in onion, celery and bell pepper, saute until crisp tender, about 5 minutes.
Stir in garlic, Cajun Power Spicy Garlic Pepper Sauce , bay leaves, salt, oregano, white pepper, black pepper and Slap Ya Mama Cajun Seasoning
Cook over medium heat, stirring constantly and scraping pan bottom for 5 minutes.
Stir in tomatoes, cook 5 to 8 minutes.
Stir in tomato sauce and chicken broth, bring to a boil. Stir in green onions and rice
Bake, covered, in a 350 degree oven until rice is tender, about 20 to 25 minutes.
Remove bay leaves and serve immediately with Texas Toast and more Cayenne Pepper Sauce if you like more heat!
Heat Level: Medium Hot
Enjoy!
Recommended Sauces for this Recipe: