3 cups water
4 medium potatoes, cubed
1 cup sliced celery
1/2 cup diced onion
2 tsp. salt
1/4 tsp. pepper
1/4 cup butter or margarine
1/2 cup all purpose flour
4 cups milk
16 oz. shredded sharp cheddar cheese
2 cups cubed cooked ham, deli works great
Your favorite hot sauce, I like to use a red Caribbean style like Lottie's Hot Pepper Sauce- Red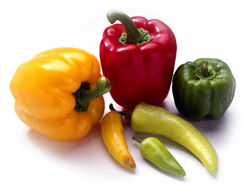 Bring water to a boil in a large pot.
Add vegetables, salt and pepper.
Cover and simmer until vegetables are tender, about 10 minutes.
Melt butter in a large sauce pan over low heat.
Add flour, stirring constantly until smooth, cooking for 1 minute.
Gradually add milk.
Cook over medium heat, stirring constantly until thickened and bubbly.
Add cheese and stir until melted.
Stir cheese mixture into vegetables.
Add ham and your favorite hot sauce to taste, stirring well.
Heat thoroughly, but do not boil.
Enjoy!
Recommended Sauces for this Recipe: