Hellfire Bacon Wrapped Asparagus
8 stalks of asparagus, stems trimmed
7 strips of bacon
4 oz. cooked brown rice
Salt & black pepper to taste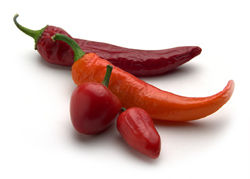 Wrap the asparagus with the bacon strips and cook them in a hot pan with a bit of oil.
Season with salt & pepper.
The cooking should take about 4-5 minutes, you should turn them around so they get colored on all sides.
Serve on top of the rice.
Drizzle with Hellfire Devil's Gold Hot Sauce
Enjoy!
Recommended Sauces for this Recipe: