3 oz of penne pasta
1 oz of mushrooms, sliced
2-3 strips of bacon
3-4 cherry tomatoes, halved
1 tbsp of crushed walnuts
3 oz of marinara sauce
1 tbsp. of Hellfire First Blood Hot Sauce
Salt & black pepper to taste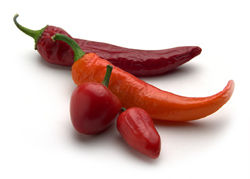 Cook the pasta, following the instructions on the package, and then rinse with cold water.
To prepare the sauce, start by frying the bacon and mushrooms in a hot pan with some oil. Season with salt and black pepper.
Cook them for about 3-4 minutes and add the marinara sauce and the Hellfire First Blood Hot Sauce. Let this all cook for half a minute.
Add in the cooked pasta and stir to coat.
Top with crushed walnuts and cherry tomatoes.
Enjoy!
Recommended Sauces for this Recipe: