Oven Roasted Squash Medley with Parmesan Cheese
2 yellow summer squash diced medium
2 zucchini squash diced medium
1 red onion diced medium
1/2 tablespoon dry basil
1/2 cup cherry or grape tomatoes
1 tablespoon Andy Roo's Original Voodoo Seasoning
1/4 cup olive oil
1/4 to 1/2 cup parmesan cheese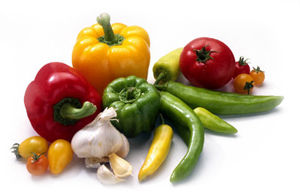 Preheat oven to 350 degrees.
Place diced vegetables in bowl.
Drizzle oil, Andy Roo's Original Voodoo Seasoning & basil on the vegetables and mix well.
Spread vegetables on a cookie sheet, place in oven and roast 20 minutes.
When vegetables are lightly brown, place in a serving bowl and fold in parmesan cheese.
Garnish with cherry/grape tomatoes.
Enjoy!
Recommended Sauces for this Recipe: