7 Pot Pepper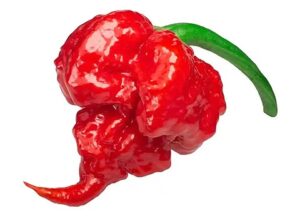 HotSauceMall strives to offer hot sauces with fiery heat & flavor and the 7 Pot Pepper achieves both requirements.
The 7 Pot Pepper (also called 7 Pot Primo Pepper or 7 Pod) is an extremely hot pepper even among other super-hots, generally measuring between 800,000-1,470,000 scoville units. It normally matures to a vibrant red color, though there are also orange and yellow varieties of this pepper. One of our favorite red ones is Cajohn's Hydra 7-Pot Primo Hot Sauce and for a yellow variety we enjoy Hellfire Devil's Gold Hot Sauce
The 7 Pot Primo has a scorpion-like tail. The skin has the characteristic bumpy and pimply skin of other superhot chili peppers similar to the Trinidad Scorpion Pepper though the tail is most characteristic.
The 7 Pot is from Trinidad and the heat is similar to the Bhut Jolokia-Ghost Pepper and the Trinidad Scorpion pepper, but the flavor is more fruity and nutty with a floral scent. Its name refers to the saying that it is hot enough that one pod can spice up 7 pots of stew or chili! Hellfire Hot Sauce offers two of our favorite hot sauces featuring the 7 Pot Pepper: Hellfire First Blood Hot Sauce and Hellfire Evil Bastard Hot Sauce
So if you want to broaden your taste buds, and blow your mind, try the 7 Pot Pepper hot sauces at HotSauceMall!
Showing all 16 results