Serrano Pepper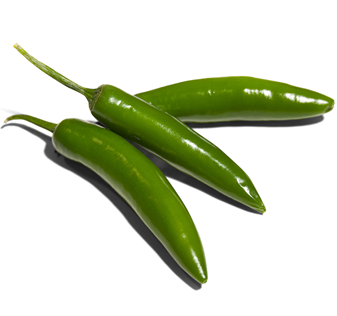 HotSauceMall offers a fantastic selection of hot and flavorful serrano pepper sauces.
If you've ever tried a jalapeno pepper, you'll know what to expect with a serrano. The flavors are very similar. Biting into a serrano pepper that averages between 10,000-25,000 scoville units will give you a hotter, spicier rush than a jalapeno. They are commonly green, orange, yellow or red like featured in Cajohn's Select Serrano Puree.
Often times the serrano pepper is blended with habanero peppers to create a bright, crisp flavor but with a little more heat. A couple of our favorites are Ass Kickin' Original Hot Sauce and Ring Of Fire Original Habanero Hot Sauce.
Serrano peppers are perfect for salsas, relishes, hot sauces, pico de gallo and also wonderful for verde type sauces like more Heartbreaking Dawns The Green Verde Hot Sauce.
At HotSauceMall serrano peppers are considered to be one of the more flavorful hot peppers which makes them so popular.
Showing all 15 results