Buddy Guy's Seafood Okra Gumbo
1 lb. medium shrimp, peeled
1/4 cup vegetable oil
1 bell pepper
1 large onion
2 cups chopped tomatoes
1 lb sliced okra, frozen is fine
1 tbsp. minced garlic
3 cups shrimp or fish stock(make your own with the shrimp shells or use fish flavor bouillon cubes, such as Knorr's, found in the soup aisle at the supermarket)
1 tsp. salt
1/2 lb crabmeat
1/4 cup chopped parsley
1 tbsp. of any of our Cayenne Hot Sauce
Hot cooked rice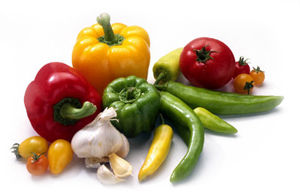 Heat oil in dutch oven or large cast iron skillet over medium heat.
Add onion, bell pepper and okra, cook 5 minutes, stirring often.
Add tomatoes, garlic, about 3 cups of stock, Cajun seasoning and salt.
Bring to a boil, reduce to simmer and cook 30 minutes, stirring occasionally.
Stir in shrimp, crabmeat, parsley and hot sauce.
Cook 5 minutes or until shrimp are done.
Add additional stock if gumbo is too thick.
Serve over hot rice.
Enjoy with garlic bread and your favorite cold brew!
Recommended Sauces for this Recipe: