1-14.5 oz can diced tomatoes, flavor of choice
1/4 cup tomato paste
2 tablespoons A Taste Of Thai Garlic Chili Pepper Sauce
1 rounded tablespoon chili powder
2 teaspoons each: salt, ground cumin, oregano
1 teaspoon cocoa powder
Freshly cracked pepper to taste
2 1/2 lbs top round or beef chuck, cubed
2 bell peppers, 1 red & 1 green, chopped
1 large onion (about 14 oz), chopped
1-10 oz can diced green chilies
2 tablespoons minced garlic, about 8 large cloves
2-15 oz cans beans; kidney, pinto and/or black, drained
2 tablespoons fresh chopped cilantro
*Optional: Shredded cheddar cheese or sour cream.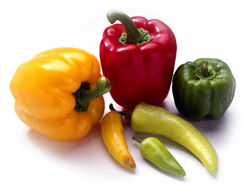 Place in crock pot insert: tomatoes, tomato paste, Garlic Chili Pepper Sauce, chili powder, salt, cumin, oregano, cocoa powder and fresh cracked pepper. Mix well.
Add beef, bell peppers, onion, green chilies and garlic. Mix well and cover. Cook on for low 7-8 hours. For a shorter cooking time: cook on high 3 hours and low for 2 hours. The beef will be as tender as 8 hours on low
Turn heat to high (if cooked on low temperature) and add beans. Cook for 15 minutes. Just before serving stir in cilantro.
Optional: Serve with sides of shredded cheddar cheese or sour cream, chopped cilantro and Garlic Chili Pepper Sauce.
Tools & Equipment: Slow Cooker or Crock Pot
Enjoy!
Recommended Sauces for this Recipe: